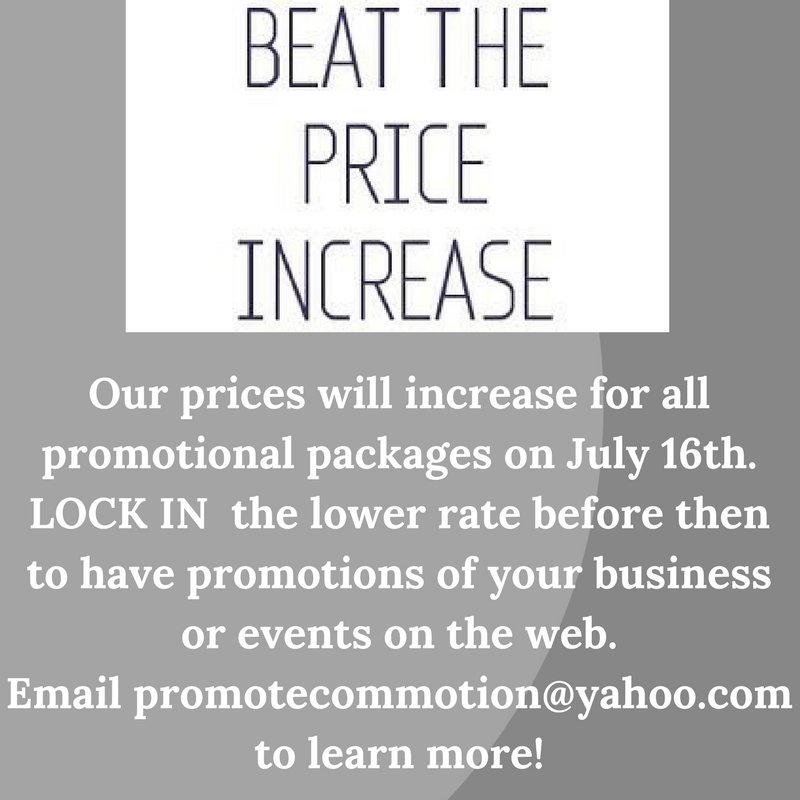 Last to days to lock in the low monthly pricing before I raise prices on Sunday~~Find out more here.
Do you need more of a presence on Social Media?
Do you not have time to be online all day?
Do you know that branding your business name through the day brings more customers and awareness to you?
Promote Commotion will post your business on many social media sites at least 5 days a week.  
We can also manage your Facebook page while you are doing what you do best.
 We will make sure you business name is on Twitter, Facebook, Google +, Blogger, WordPress, Tumblr, Instagram, Flickr, Swarm, Pinterest, and more.
Want to learn more?    
What Promote Commotion Network is about!
Promote Commotion started out on Facebook as a Thank You to small businesses owners that donated to an event I did in 2010~~~
It has now grown to having many clients who know I will post the name of their business and showcase them in many ways on many sites all across the web! 
Many clients get attention from out of state sales and more through posts that put their business name on Google.
From a client from Northern Virginia:
(see more reviews below)
"Thanks Lora for your wonderful marketing, we just had a women email in from Los Angeles to attend our New you New year retreat. She said we were at the top of the yahoo search when she looked for a retreat for Jan.Thanks Again
Robert T Pritchard JrThe Healing Frequesncy
Package #1
I post Mon – Fri and those important event or sale days for clients. I post on many social sites and blogs on the internet.
A few examples that are hit daily.Facebook (Promote Commotion) , Twitter,LinkedIn, Pinterest Instagram, Tumblr, Google + (Promote and Personal),Flickr, WordPress, Delicious, Scoop It, Digg,  Flipboard, Pocket, Instapaper, Evernote, a weekly online *paper* called 
If I find a new site, I start posting on it. I don't know until I try, but will try them all. I love my business owners and will talk about them as much as possible. Wherever and how I can.
I manage pages where I post from  your Business Facebook page with posts during the day ~ Mon – Fri~ I will post at least 3 and up to 5 posts during the day. This is to keep your Facebook Business page current, and on the timeline. I use information and images I get from the clients, or through my own research. I try to keep each business page as current as possible and love when a client gives me lot's of information to work with.
Package # 2 also includes all that is in Package #1 as well.
This means at least 5 days of Promote Commotion talking about your business as many places as humanly and computer possible each day.

Package #3
Package #1 & plus manage and posting on your Twitter,Instagram, and Google+ pages as you.

Package #4
Package #1, #2, #3

Package #5
Events Package
No contract needed. Month to Month
 Package #1~~ $50 
Package #2 ~~$75
   Package #3 ~~ $100
Package #4~ $150
Package #5~ $50
Invoices are sent through Paypal.
I do not accept Checks of any kind due to bounce issues. 
Paypal can be used by anyone with a credit or debt card.
YOU PICK START AND DUE DATE
Payment can be monthly, 3 months ahead, 6 months ahead or a year in advance.
Payment is always for month of service. 
Invoices sent at least 1 week prior to due date you choose, and late payment is $10 after 10PM of due date.
If you need to cancel for any reason, just notify me through email you no longer need my services. This needs to be done when invoice is sent for payment due. At least 2 days ahead of due date or you will be required to pay for that month's of service. No excuses needed to cancel, and no reason necessary. Just ask to cancel when you get invoice, we will cancel your service and still be on great terms. I may even mention you in posts if you have something special going on.
Email me at promotecommotion@yahoo.com if you desire further info or want to sign up.
SPECIAL EVENTS

Events you want posted daily are the same as Package #1  Posting at least 5 days a week for a specific event you are planning. This makes sure you are posted often and all over the web.
Package #1 ~~ $50 monthly
Events in the Community
I will post events in our community for no charge when space and time allows. The posted events go to all the places in our packages, but not promised to be posted individually. They are included in our events blog which is posted daily. I will post what seems to be of interest to those who follow me. I include events that are sent to me or I am invited to.
 Want your event posted daily and all over, then you can choose Package #1 to fulfill that need.
I will not look for an event, nor will I continue to post for someone who does not appreciate it. Like the post on Facebook, or Twitter and show appreciation, or I will discontinue posting for your venue or you.
Make sure you click all tabs for weekly, monthly, upcoming and special events listed and updated daily.
Follow us on Facebook Here
Follow us on Instagram Here
Follow us on Twitter Here
Follow us on Pinterest Here
Follow on LinkedIn Here
Follow on Google+ Here
Follow on Flickr Here
If you are interested in what I do and want to know more just emailpromotecommotion@yahoo.com and I will answer any and all questions and we can get started on causing a commotion about you and your business too~
Source: Promote Commotion Network of Businesses: Promote Commotion